Foot grip
164 screws ensure locktight grip even with snowy boots.
Flex
4 layers of 4 mm birch plywood makes fast runs smooth even on rough ice.
Variable action
Alpha Variable trucks can be adjusted to your preferred turning response.
Finish
Choose your looks! Custom finish and colors available.
Stable runners
Laser-cut durable alloy iron runners with V-shaped edge for minimal friction and great grip.
Custom Design
crafted by Stefan Söderlund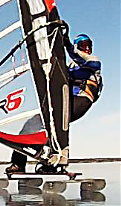 Stefan Söderlund is world champion in icesurfing, awarded "King Of Ice" in 2014. He also holds the top position in Alpha racing 500.
Stefan is a swedish engineer and designer, well known for inventing ground-breaking constructions in several areas.
Alpha Iceboards, Alpha Variable trucks and Alpha runners are the result of his many versions towards really great performing icesurfing gear.
Alpha icesurfing components are delevoped and manufactured in Västerås, Sweden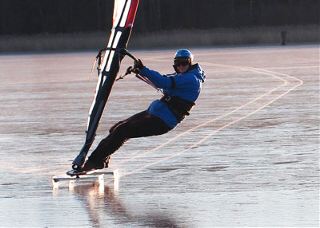 Components
Board
We use 4 layers of laminated birch plywood for the board. This ensures a good flex and smooth ride even at high speeds and rough ice.
Grip is ensured by several screws along the boards upper surface. These are rounded to avoid injury in case of a crash but enough friction to guarantee great contact to your boots.
The board can be ordered in custom colors.

---
Trucks
Different races require different setups. In slalom, speed or other courses you normally need to change trucks. Alpha Iceboards can be ordered with three different truck-setups. Fixed for slalom, fixed for speed or the brand new Alpha Variable trucks.
We all know that it is important to fine tune trucks to get action and response based on conditions. Using Alpha Variable trucks you are able to adjust turning radius and response using just a wrench. No need for changing trucks!
Runners MUST be perfectly aligned. Alpha Variable trucks are laser cut to guarantee absolute alignement.
---
Runners
Stable runners to avoid wobble.
Thin and perfectly aligned for minimal friction.
Perfectly grinded edges for maximal ice grip.
Hard metal for endurance.
Alpha runners have it all! Laser-cut perfection!
Specifications
Board
Birch plywood 4 mm x 4 layers
Length: 1500 mm, Width: 355 mm
Center distance: 1300 mm
Width between runners: 500 mm
Color: standard or custom
Runners
400 mm x 100 mm x 3 mm
V-edge
Stainless laser cut durable alloy
Trucks
Alpha Variable (slalom and speed)

turning radius approx: 10 – 50 m
---
 
Read the review at boardtests.com